Daily Dose of Dudefest
TIP OF THE DAY
Want to get drunk but you're out of mixers? Try mixing liquor with liquor, you might find some surprisingly delicious combinations (double whiskey-triple tequila is a Dudefest favorite).
VIDEO OF THE DAY
One Wipe Charlies
QUOTE OF THE DAY
| | | |
| --- | --- | --- |
| " | Well, I guess if a person never quit when the going got tough, they wouldn't have anything to regret for the rest of their life. But good luck to you Peter. I'm sure this decision won't haunt you forever. | " |
— Lance Armstrong, to Peter La Fleur (Vince Vaughn) in DODGEBALL: A TRUE UNDERDOG STORY, 2004
THING OF THE DAY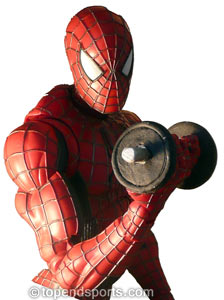 Curls
This is probably the most popular way to build your bicep muscles, the most important muscles in the human body. A trip to the gym isn't complete without them, and neither is your life.