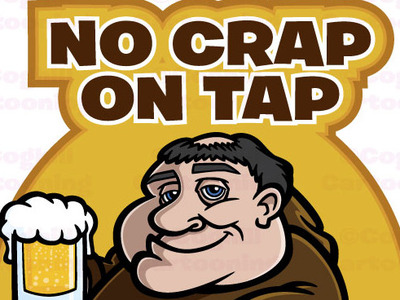 My New Bar
February 28, 2014
I am getting settled into my new neighborhood. I learned that hanging a left out of my door will take me to a much scarier part of town than if I were to hang a right out of the door. I learned which of the many identical looking Mexican Deli's have good beer selections. This left one big hole in my neighborhood, where am I going to hang out?
I decided to start looking for that place this past Sunday. Down the street is a place called The Brooklyn Tap House. I went in to try a couple of new beers and see if I could have any fun. My afternoon started off really well. The bartender was nice, she gave me some recommendations and before I even knew I wanted it I was sucking down a pint of Breckenridge's Vanilla Porter. This beer was too creamy for me but was a good start nonetheless.
I had three beers more before I realized how badly the Giants were playing against the Seahawks. The selection at the Tap House was phenomenal. I had a bunch of old favorites (looking at you Phin and Matt's Extraordinary Ale and Great Divide Hibernator). They had beers from every market, NYC, New York State, the Best Cost, and the Beast Coast, all sorts of seasonals. I was a big fan.
Then I started noticing a pattern in the cheers from the other patrons in the bar. They certainly weren't excited about anything the G-Men were doing. Obviously. And it didn't make sense if they were cheering for the Seahawks. There was a guy in a Russell Wilson jersey but he couldn't have been making all the noise by himself. I started checking out the other TV's and I realized just how exciting Patriots vs. Dolphins was. The game had playoff implications, both in fantasy football and real life.
Fun fact, if you're not in Florida. You aren't going to find a bar full of Phins fans. That's just the way of the world these days. I once lived with two guys in Syracuse, one was a Bucs fan and the other rooted for the Dolphins. Nobody ever believed me when I told them that, so on Sundays our apartment was like a football fan's zoo.
Eventually, I was ready to admit that almost everyone in the bar had come to watch the Patriots. The guy sitting next to me was a Bears fan thankfully and we had fun watching our teams' respective quarterbacks throw a zillion interceptions. Well, fun isn't the right word. Commiserated would be more accurate.

I'll probably go back to the Tap House some day. It sure as hell won't be during football season, though.
Smigoversen reads the words and drinks the beers. He twitters here.