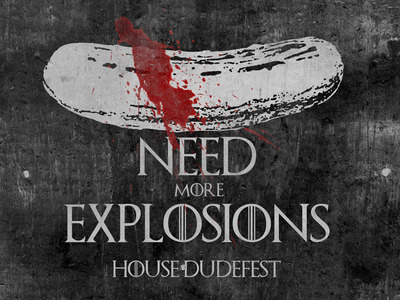 A Fantasy League of Ice and Fire Week 1
April 12, 2014
Game of Thrones triumphantly returned Sunday night for its fourth season. Dudefest.com LOVES Game of Thrones. It's easily the most dudefest show on television (no, it's not TV, it's HBO) with the constant barrage of tits, violence, and verbal smack-downs. We spent all year trying to figure out how to make this show even better. And the answer was obvious: math. As in, let's determine who is winning the Game of Thrones. I humbly present to you, The Fantasy League of Ice and Fire.
This week's top performers:
Oberyn Martell: 503 points
The Red Viper. A new character this season from Dorne has emerged as the early favorite for Rookie of the Year. His scene was a tour de force in badassery. He starts off in a whorehouse (+100) with his "paramour" picking from a line-up of chicks. Not satisfied with just one, he insists the male attendant joins the action. Scoring a combined 250 for the combination of an orgy as well as Ultimate Dudefest. He wasn't just banging though, he also found time to confront a Lannister soldier and stabbed him in the hand (+100) and was an overall badass. After he finishes up, he has a hot and heavy make-out sesh with his chick while Tyrion and Bronn watch awkwardly. Oberyn is also generous, he insisted on getting them whores too (he was even courteous enough to ask them if they preferred girls or boys - what a guy). All in all this was a dominant performance from a man who is my preseason choice for MVP as well as ROY.
Sandor Clegane: 480 points
The Hound. Funny how the top two in total points scored have nicknames that are real bad ass. Sandor is a broken man and does not give a fuck. He also seems to be enjoying having Arya around—he pretends she is his whore at one point to protect her from a guy at the inn (cute, right?). Did I mention he gets in a fight with 5 guys on an empty stomach while drunk? Because he did. And he killed three of them (+300). He also scored points for two great lines: "Fuck the King" (seriously how much does Joffrey suck?) and "Lots of cunts name their swords" in reference to her getting Needle back.
Arya Stark: 255 points
Two of those five guys The Hound fought at the Inn were killed by Arya. I should remind you that she is 11-12 years old and has killed more people than your average Marine (with zero consequences). She gets bonus points for killing Polliver, one of Ser Gregor's men from Harrenhal back in Season 2. She's been whispering his name in her list since then and she got to kill him. She stabbed him in the throat with Needle while repeating the exchange he had with her friend Lommy who had been stabbed in the throat. In a normal week, Arya would have won this but there was just too much badassery from her elders. Whoever Arya hangs with benefits from her presence and The Hound is no exception. Arya is a top 5 play every week and SHOULD NOT be benched under any circumstances.
Olenna Tyrell: 70
The Queen of Thorns (another great nickname) put in a muted but high quality performance. She picked up not giving a fuck about anything right where she left off last season. She was especially delighted to meet Brienne of Tarth who had beaten the crap out of her grandson at Renly's tournament in Season 2.
The Black Cells:
Tormund: -33 points
When the Thenns showed up, his authority was seriously undermined. I'm worried it won't be able to recover. The Thenns were going to eat people. They went out of their way to hunt some people while Tormund and Ygritte had been sitting around making arrows and shit. This is especially upsetting because Tormund frequently boasts about the size of his member, he needs to start using it if he wants to have a good season.
Jaime Lannister: -31 points
The dude got abused in all directions this episode. He's forty, only has one hand, won't inherit his Father's lands because of his oath as a brother of the Kingsguard, the King is his son and is a total dick, the list goes on. The fact that he only has -31 is only possible because of the funniest moment of the episode. The first time he waved his replacement hand.
Tyrion Lannister: -16 points
He was sent to wait for Oberyn Martell to arrive. Oberyn blew him off for the whorehouse. Why was Tyrion sent to receive a Prince of Dorne? Because Oberyn hates the Lannisters more than anyone and is planning on killing as many as possible. Just in case he started early, Tywin sent Tyrion. He's a fan favorite so you know he'll be okay in the long term, or he'll get brutally murdered. Toss-up.
Here are our Dudefest Power Rankings for the Fantasy League of Ice and Fire Week 1:
Smigoversen reads the words and drinks the beers. He twitters here.