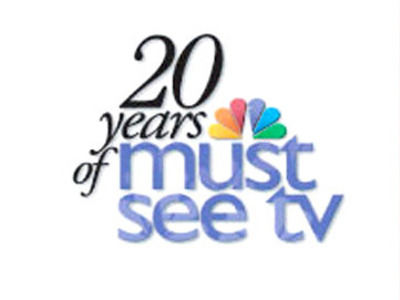 Greatest NBC "Must See TV" Bromances
June 03, 2014
Those of you who have watched NBC comedies on Thursday night in the past thirty years probably know what NBC's "Must See TV" is, and for those of you haven't, use context clues or the Wikipedia page to figure it out. In my list of the greatest bromances, I'll also be including shows from "Comedy Night Done Right" era, because it's essentially the same thing with a different name, like OLYMPUS HAS FALLEN. Now, to address the elephant in the computer, the reason I'm limiting this list to NBC Thursday night comedies is that there are a lot of lists of the top TV bromances, and frankly, although it doesn't have the likes of Tyrion & Bronn, Cory & Shawn, and Bert & Ernie, "Must See TV" absolutely owns in the category of bromances. Don't believe me? Read on brother. Or sister. Or gender neutral sibling.
10. Doug & Mark – ER (1994-2008)
Duo Nickname: The Docs
Movie Equivalent: Batman and Robin (BATMAN & ROBIN)
Bromance Stats: First off, you're welcome for reminding you that ER was a thing. That show was huge. Like a top ten show for eleven years with three of those years at number one huge. And why was is it able to become so popular? Because of the bromance between Doug Ross and Mark Greene (you thought I was going to say because of how handsome Clooney is, didn't you?). Greene and Ross were bromantic as you can get on a TV drama (they're the only bromance from a drama on this list, and for good reason—drama stifles bromances), goin' on dude road trips, havin' witty banter, and savin' lives, although the last characteristic is due more to them being doctors rather than friends.
9. Norm & Cliff – Cheers (1982-1993)
Duo Nickname: The Alcoholics
Movie Equivalent: Timon and Pumba (THE LION KING)
Bromance Stats: These two are literally always at the bar. Other than work (Cliff was a mailman and Norm was an accountant), we don't think they did anything else besides hang out with each other in Cheers. Best friends since childhood (although Norm actually grew up in Chicago while Cliff grew up in Boston—after eleven seasons backstories get murky), Norm and Cliff essentially live in the bar. Seriously, all they do is hang out at the bar all the time. There's not much else to them, but their dedication to drinking is what puts them on this list.
8. Theo & Cockroach - The Cosby Show (Years on "Must See TV": 1984-1992)
Duo Nickname: The Roach & Theo
Movie Equivalent: Detectives Marcus Burnett and Mike Lowrey (BAD BOYZ)
Bromance Stats: The Cosby Show was literally the most popular TV show in the 80s, possibly because an increasingly senile Reagan required all American households to watch it Thursday nights at eight. His weirdest official decree, other than obligatory jelly beans in the Oval Office. Theo, the only boy among his four sisters, obviously craved male bonding, and that's where Cockroach came in. Best friends who enjoyed making up raps, procrastinating, ogling chicks (who they referred to as "burgers", a Dudefest.com approved code word), and smoking weed (probably), Theo and Cockroach brought high school bromance to the mainstream.
7. Frasier & Niles – Frasier (1993-1994, 1998-2000)
Duo Nickname: The Super White Bros.
Movie Equivalent: Brennan Huff and Dale Doback (STEP BROTHERS)
Bromance Stats: The closest to a literal bromance on this list are the brothers Frasier and Niles Crane. Frasier was introduced on Cheers at some point as one of the few classic "oh man we're running out of stories for these characters because we've been doing this for five years so let's add a character that people won't like as much" type of characters that people actually did like. And when he got his own spin-off, the writers decided that Frasier wasn't Frasier enough, and created a brother for him, despite the fact that on Cheers he was an only child. But those two were great together, constantly squabbling and one-upping each other in politeness.
6. Grizz & Dotcom – 30 Rock (2006-2012)
Duo Nickname: The Entourage
Movie Equivalent: The Jackson brothers (THE REPLACEMENTS)
Bromance Stats: Fair warning, do not go to Grizzand.com if you are at work, school, or any other place where you wouldn't want a bunch of people to see a pair of gigantic breasts dancing on your screen. Grizz and Dotcom have been friends since childhood, when they met at a free summer camp for giants, and they've been around each other ever since. They ice skate together, have a book club, have a history club, and play what we at Dudefest.com can only imagine are the most hilarious games of table tennis in history. Although 30 Rock is over, we can only hope that at some point in the near future there's a spin-off where they fight through Eastern Europe as a duo in a TAKEN-style rampage.
5. Kramer & Newman – Seinfeld (1990-1991, 1993-1998)
Duo Nickname: Those Two Idiots
Movie Equivalent: Lloyd Christmas and Harry Dunne (DUMB AND DUMBER)
Bromance Stats: The fact that there's a lot of talk about the bromance between Jerry and George makes this bromance a sleeper pick, but in reality Newman and Kramer's friendship is much more legendary. Why? Well, while Jerry and George have been friends since high school, George tends to screw over Jerry for his own gain and Jerry seems to view George's missteps as a source of amusement. On the other hand, Newman and Kramer are usually thick as thieves, whether it be co-hosting The Merv Griffin Show in Kramer's apartment, making sausages together, or traveling to Michigan to get the 10¢ return on bottles. Sure, they get into arguments, but Risk is a game that true players take seriously.
4. Michael & Dwight – The Office (2006-2013)
Duo Nickname: Mozart and Butch Cassidy
Movie Equivalent: Frodo and Sam (LORD OF THE RINGS)
Bromance Stats: Regional Manager Michael Scott and Assistant (to the) Regional Manager Dwight Schrute have one of the most strained bromances on this list, but that does not stop it from being great. Because of Dwight's respect for authority, he chooses to participate in absolutely any idea, scheme, or video idea that Michael comes up with, and although Michael mostly views Dwight as a sidekick, he does watch "karate movies" and "that stupid Battleship Galaxy show" with him. They also sank a car together.
3. Troy & Abed – Community (2009-2014)
Duo Nickname: In The Morning
Movie Equivalent: Kirk and Spock (STAR TREK)
Bromance Stats: In the first four seasons of Community, before the departure of Donald Glover (Troy), these dudes were literally inseparable, and essentially a single person with multiple personal disorder. They co-host a morning show that (much to the dismay of their guests) is never actually filmed, make various short films together, and they do most of their of their studying for their community college classes by generating raps about the material. Of the "Must See TV" bromances, this one is far and away the weirdest.
2. Joey & Chandler – Friends (1994-2004)
Duo Nickname: Best Buds
Movie Equivalent: Phil Wenneck and Stu Price (THE HANGOVER)
Bromance Stats: Their bromance origin story is decent at best (they met when Chandler happened to be looking for a new roommate), and they have only known each other for a year before the start of the show, but this bromance was a story of star-crossed duders. The duo became instant friends, sharing a love of Baywatch, foosball, and super comfortable reclining chairs. We can only feel bad for Ross, who was not only left out of that legendary bromance, but also ended up with Rachel at the end of the series. We can't decide what's worse.
1. Turk & J.D. - Scrubs (2002-2004, 2006-2008)
Duo Nickname: Guy Love
Movie Equivalent: Brian Taylor and Miguel Zavala (END OF WATCH)
Bromance Stats: Seriously, could there be another number one? Vanilla and Chocolate Bear are essentially a married couple without all that pesky sex. The dudes have been inseparable since college, spending every waking moment together and seem to come up with new nicknames for each other every day. Hell, even Turk's wife Carla knows she doesn't love Turk as much as J.D. does. Scrubs (had Zach Braff stayed on of course) could have gone on for 50 more years, and I'd still be watching it. The finale would of course be Donald Faison's actual funeral, with Braff giving a incredibly moving eulogy.
Joe Kennedy is a staunch technophobe and suffers from a debilitating fear of human hands. If for some reason you'd like to get in touch with him, send a letter to 463 Mass Ave Cambridge MA 02139.