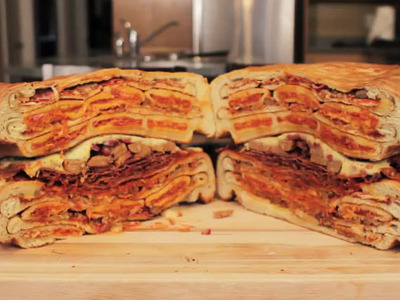 Most Masculine Foods
June 17, 2014
Sometimes (generally three times a day), a dude's gotta eat. And sure, you could have a salad or a kale sandwich or whatever quinoa is, but you're a man damn it, and you'd like to eat something that complements your masculinity. Now you probably get the general gist of constructing a manly meal—protein, and lots of it—it's certainly easily to get lost in the specifics. For that reason, Dudefest.com has compiled a list of the ten most masculine foods. Whet your appetites gentlemen, because here we go.
10. Ribs
Food-fire.com
Ribs are a great item to start off this list. A hands-only food, topped with barbeque sauce, and easy to eat, ribs are a classic "get out the grill and cook like a thousand" type of food. The minimum requirement for a plate of ribs is to eat at least as many ribs as you have in your body (24 if you're not Marilyn Manson).
9. Wings
Flying Dog Brewery
Another "Eat it with your hands and wipe it on your pants because napkins are for cowards" dish, wings are usually associated with watching sports, which is an incredibly dudefest activity—second only to actually playing the sports. The bones vs. boneless debate certainly divides wing lovers, but what's a manly food without an argument about it?
8. Burgers
Burgers have been a staple of the male diet since a caveman accidentally bit a cow and was all, "Dude, holy shit". The rest is history. The best part about the burger is that you can go to pretty much any restaurant, order a burger, and it'll be at least decent. Even an idiot can make them. We're idiots, we should know.
7. Steak
Crizz Food
Steak is oddly the only entry on this list where using a fork and knife is encouraged, because steak is a classy food, and is best served with a side of potatoes and a glass of whiskey. Wearing anything other than a tuxedo when eating steak is considered disrespectful without express written permission from the man who cooked the steak.
6. Bacon
Food Riot
What else is there to say about bacon that hasn't already been said? It's essentially a slab of fat that tastes like how I imagine Zeus's beard tastes. A side effect of cooking bacon is the production of bacon grease, which can and should be used to make every type of food better. Except of course bacon, which is perfect.
5. Beef Jerky
Ask The Meat Man
Known alternatively as "Slim Jims" in the way tissues are alternatively known as Kleenex, beef jerky is to beef what raisins are to grapes. At least I think so. I'm not a food doctor. But beef jerky seems all dried out and stuff, so I assume that they just leave like ground beef or maybe meat loaf out in the sun for awhile, and then when they come back it's all beef jerky. That seems reasonable.
4. Sausage
Claus Germ
Sausages come in all shapes in sizes (well, I suppose they come in varying degrees of roundness), which makes them one of the most versatile types of meat. Breakfast sandwich? Sausage works. Grilling? Sausage works for that too. But what's the indisputably best type of sausage? Kielbasa. Why? Because you can have a thick and juicy kielbasa sausage your way. Like in a stew. Or between two buns. Or you can just take them raw.
3. Hot dogs
Hot Dogs
Hot dogs. The classic American meal. Drop it in a bun, add some yellow, some red, and some green, and down that shit like it's the last thing you'll ever eat. But as you can tell from the rest of this list, anything that isn't meat isn't really that important, and is frankly incredibly unnecessary. So ram that pure, raw shaft down your mouth like a boss, boss.
2. Bananas
Foot Matters
Potassium is obviously the most masculine chemical element, so naturally the only food that actually contains potassium, the banana, has to be pretty high on the masculine food list. Are they delicious? Nope. They seem to be the only fruit that isn't. But, because a dude has to get that daily dose of potassium, unsheathe that thing and try your best to swallow it.
1. Popsicles
Wallflower Online
Could there really be another number one? Popsicles are freezing cold, have at least one flavor, and are straight up delicious. Plus—and this is really most important—out of everything on this list, they are the most phallic. Wait, that's what the list was about, right?
Joe Kennedy is a staunch technophobe and suffers from a debilitating fear of human hands. If for some reason you'd like to get in touch with him, send a letter to 463 Mass Ave Cambridge MA 02139.