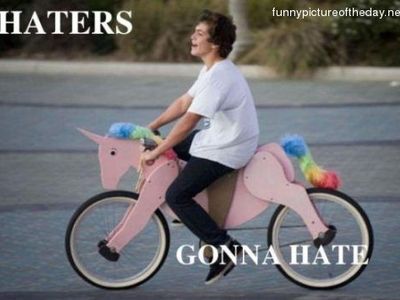 The Most Hated Dudes in America
June 24, 2014
I was reading the internet today and stumbled upon a list (thanks ESPN.com!) of the dudes in this great country with the highest disapproval rating. Our sharp as hell editor has alerted me that this info came from a poll which can be found here, and ESPN just happened to post and comment on it. While ESPN is cool and all they certainly don't know jack about Dudefest, so I've taken it upon myself to provide you all with my own commentary.
10. Jon Gosselin: 71%
I'll admit that the name sounded familiar but I had to look up who this dude was. You may remember his from a string of reality TV shows back around 2009. He and his wife Kate had 8 kids and so they got a television show about that. Sweet. So apparently Jon decided being famous and rich was awesome and decided to start fucking the daughter of his wife's plastic surgeon. #firstworldproblems. This prompted a divorce and apparently people still hate him for it. The fact that he is on this list is baffling, when there are actual real murderers and criminals out there to hate and all, but America sadly is too busy caring about Hollywood assholes.
9. Eliot Spitzer: 73%
Ahhhh the former governor of New York. I still remember riding shotgun in my mothers BMW when the news of the scandal broke. For those of you who don't remember, Spitzer had taken a hard line on cracking down on crime and was at the time seen as a very "clean" politician. Shortly after his election to Governor it was discovered that he was a major player and client of a high scale prostitution ring. He embarrassed a ton of people, including his family, and had the awesome alias of "Client 9" making his position on this list even more appropriate.
8. Michael Lohan: 76%
He's another one I had to look up. This dude is Lindsay Lohan's father and besides being a pretty awful parent he's also been involved in several altercations, rehab stints and probation violations. Again, I'm not sure why anyone really gives a shit and disapproves of him so much when we have murderers and real criminals running around. Oh wait, that's right - he was investigated for insider trading so he is a criminal, but I highly doubt that's why most of America hates him. It's probably because he's a shitty parent.
7. Aaron Hernandez: 81%
The former New England Patriot, now alleged murderer, is no surprise on this list. You'd think that making millions of dollars playing professional sports would be an incentive for Hernandez to keep his nose clean, but he had other ideas, like murdering people for disrespecting him. The Patriots organization uses a maturity scale from 0-10, with 10 being the highest, for all of its players. Hernandez ranked at a 0, meaning that he was as immature as possible for a professional athlete. I guess they were spot on with that rating when he allegedly decided that murdering people for insulting him was a good idea. Also his wife? or fiancée? ex-fiancée? baby mama? I'm not entirely sure what she is, but seriously, Buzz, your girlfriend, WOOF!
6. Phil Spector: 83%
This was an interesting choice for the list as well. Phil Spector is a member of several different "Halls of Fame," including the Rock and Roll one, for being a badass record producer and songwriter. He had tremendous success throughout his career and helped artists like the Beach Boys and The Rolling Stones make awesome fucking music. And then he murdered Lana Clarkson by shooting her in the mouth in 2003. And apparently people hate him for that! I'm glad we've finally got some actually bad dudes on this list and not just C-list celebrities who were dicks to their wives (looking at you, Gosselin!).
5. Justin Bieber: 86%
Everyone knows the Beebs is a huge doucher. I also thought his "retirement" was the least shocking news considering he became famous for his high pitched pre-pubescent voice anyway. I was really hoping to see him try to make it, like Hanson did (remember "MMMBop"!?), in the dark scary world. Unfortunately he just quit and is going to live off his millions until he loses them all in a messy divorce years from now. The Beebs has momentarily stepped out of the spotlight but I can only hope we'll see him in the next season of Celebrity Rehab.
T3. Conrad Murray: 88%
Conrad was Michael Jackson's personal doctor and was charged with involuntary manslaughter in the wake of Jackson's untimely death. MJ dying was a real buzzkill. In fact it was on the day of my high school graduation, so at least my classmates and I had something exciting to talk about and try to look up (before the use of 3G was standard) while the speeches droned on. Anyway, people are pissed that he killed Michael Jackson. I for one am not really that angry since the Michael everyone actually loved died years ago and was replaced by that white skinned alien.
T3. OJ Simpson: 88%
Remember OJ? You should. You know who else should know about OJ Simpson? Aaron Hernandez, that's who. But I digress. OJ was acquitted in a murder trial in the '90s which literally every human on the planet was amazed by. It really came down to the fact that the police in charge of the case fucked up big and OJ got off. He was later arrested in Nevada for armed robbery and kidnapping and is currently serving a 33 year sentence. People aren't really huge fans of "the juice" anymore, probably because he's a convicted felon and essentially a career criminal.
2. Bernie Madoff: 90%
I'm not sure who the 10% of people are who don't hate Madoff, and in my opinion, he belongs in the number one spot by a huge margin. Madoff was the creator and manager of an extremely large Ponzi scheme which allowed him and his partners to get extremely rich while causing an extraordinary number of people and organizations to lose all of their money. Some of the worst hit were retirees and old folks who thought they were being smart with their retirement money. Also the NY Mets. Madoff cheated everyone out of the money, and there is really no way to pay any of them back or make them whole again. Instead, Madoff is in jail, and currently serving a prison term that sees him released at the ripe age of 150 years. Madoff's family actually asked the judge if they would allow him to die at home, to which the judge said go fuck yourself (he actually just said no, judges don't swear). The court ruled that Madoff was essentially a soulless bastard and deserved no mercy whatsoever.
1. Donald Sterling: 92%
As I stated earlier, I believe that Madoff belongs here, and L.A. Clippers' owner Donald Sterling probably belongs somewhere not on this list. To recap, the American people hate an old racist guy, which as far as I know is all old people, more than they hate several convicted murderers, crooked politicians, and the worst financial schemer in the history of banking (seriously, Madoff was off the charts as far as the law is concerned). A lot of this probably has to do with media exposure; obviously everyone knows about Sterling and the media just had a field day with the whole thing. And to make matters worse he's been deciding on and off to sue the NBA for $1 billion. As sole member of the Dudefest.com legal team, and future lawyer for all of the degenerates that write for this site, all signs are pointing to Big Sterl winning. Let's be honest, he's a billionaire with nothing to lose, who wants nothing more than to clear his name. Whether he wins this lawsuit or not, I think we can all agree that his approval rating isn't going anywhere.
Jimmy Fraturday is THE authoritative voice on playing sports with a beer in hand. He is the son of two great Americans, and he enjoys a good gargoyle over a keg stand. He recently stopped drinking Natty Light during the week. All hate mail can be directed to his email.