Vending Machines Are The Most Out-Dated Technology
August 14, 2014
Earlier today I felt like I needed an energy boost, so I decided to get a soda. The closest place to get such a thing was the vending machine on the first floor of the building I work in. So, I ventured downstairs, put my money into the machine, selected a Coca-Cola, and got a Dasani water. Great, I'm in a goddamn office building that has plenty of faucets and water purifiers, and just had to spend $1.50 on the Burger King of water.
I pressed the Coke button again, with no money in the machine, and it said "Sold Out." Nice! You couldn't have warned me there? It's like the world's worst Amazon recommendation or iPhone auto-correction. "People who pressed Coke later bought Dasani." "You selected Coke. Did you mean Dasani?" "No results found for Coke. Searching instead for Dasani." Why the fuck would I want a goddamn water when I asked for a soda!? Are you trying to make a statement about my diet and life choices!?
The worst part was that with Coke sold out, I had to choose between Coke Zero and Diet Coke. And since Diet Coke is the official beverage of the nightmares involving Bob Barker repeating "Have your men spayed or neutered" while chasing me down an endless hallway, I opted to go with the lesser of two evils, Coke Zero. That means I just spent $3 on a 20oz Coke Zero, which is probably the most anyone has spent on that amount of Coke Zero since the product's pointless introduction.
Vending machines are a huge reminder that despite all the technological advances we've made in the past few decades, we're not living in the future yet. Why is it that I can do my taxes on my phone, access Pornhub on an airplane, and read through entire cast and crew of TROLL 2, but I still only have a 50% chance of actually getting that bag of Lays I just overpaid double for?
What's most absurd about vending machines is that they've only had one major upgrade in the past 20 years: the conveyor belt vending machines. You can try and make the argument that the vending machines with the giant buttons are an improvement, but it's the equivalent of a coroner putting makeup on a dead person. It looks better, but it doesn't change the fact that they're dead.
The conveyor belt isn't even that great though. Sure, it has that futuristic look, but it offers no functional difference from the classic drink vending machine, and it's dead simple to steal from. Plus, and most importantly, the drink dispenser wasn't even the type of vending machine that needed an upgrade in the first place. It's the goddamn snack machine.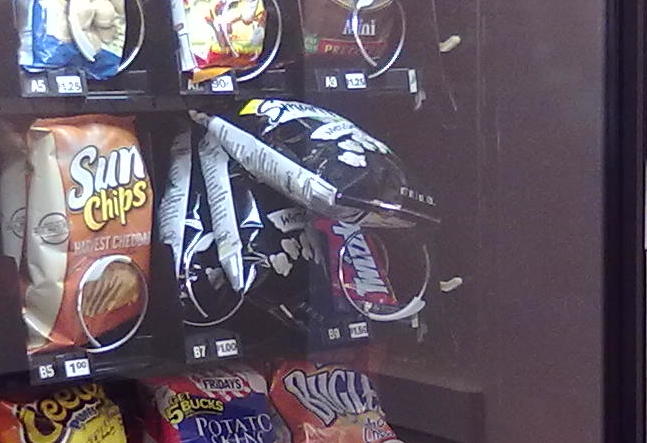 Here's the thing though, I would forgive everything about the vending machine if they just accepted credit cards. Everything else in the goddamn world (other than high school sporting events, which I'm no longer allowed at anyway) accepts credit cards. It is every American's god-given right to carry no cash if they so choose, but the vending machine industry apparently does not respect basic human freedoms. Instead, you can only put singles in, 75% of the time they only accept exact change, and whenever you change your mind and press the return button, your money back comes in nickels. Even most parking meters accept credit cards nowadays, and they're controlled by the goddamn government, which is currently in the process of upgrading to Windows 95. Any industry that's slower to accept new technology than the government should no longer be an industry. Period.
I mean it. Let's get rid of vending machines. We can replace them all with a mini 7-Eleven kiosk like the ones in subway stations with a man named Prabuh behind the counter. The benefit of that? Free Slurpees for everyone. I haven't crunched the numbers on this plan, but there is no way that it could be any worse than vending machines. Nothing could.
Joe Kennedy is a staunch technophobe and suffers from a debilitating fear of human hands. If for some reason you'd like to get in touch with him, send a letter to 463 Mass Ave Cambridge MA 02139.