Hottest Female Athletes
August 28, 2014
Presenting, in no particular order, the hottest female athletes. They're all real, too; no cartoon characters on this list.
Hope Solo
Source: ESPN
The female Tim Howard: objectively attractive, a great goalkeeper, and a national treasure (every four years, as long as the World Cup is played in prime time). She has had a couple of domestic violence arrests, but that's okay; I'd let her beat me up.
Plus, her last name makes it sound like she's Han Solo's hot sister, and there is literally nothing more attractive to me. I hope she's prepared for me to shoot first.
Alex Morgan
Source: Sports Illustrated
She is a great soccer player, hot, and makes me feel bad for accomplishing absolutely nothing in my lifetime. We're the same age, and when I was still living at my parents' house, unemployed and drinking too much, she was a World Cup runner up and Olympic gold medalist in the sport I used to play (before I quit as soon as it got moderately difficult around age 14).
She is also a published novelist, and I write internet comedy for free, so she's got me beat on that one, too. She's better than me at stuff that you wouldn't even call "her thing." According to Wikipedia, she is engaged to Houston Dynamo player Servando Carrasco, which leads me to believe if I hadn't quit soccer in high school, I would have become a professional player and engaged to Alex Morgan.
Lindsey Vonn
Source: Sports Illustrated
Skiing is another sport I used to do regularly, and used to consider myself really good at, until I stopped almost completely because everyone except me kept getting better by practicing (something I refused to do). If I had known I would be hanging out with chicks like Lindsey, though, maybe I would have stuck with it.
There's definitely a bit of emotional baggage here, considering her marriage ended in 2011, and she is still exclusively known by her married name. How many of you have ever heard of Lindsey Kildow?
Anna Kournikova
"Real original," you say. "Everyone thinks Anna Kournikova is hot."
Well, yeah, that's because she is. I used to have that poster of her in my room, right above my bed. It's how I learned how to masturbate.
That Tennis Chick With the Butt From That Famous Photo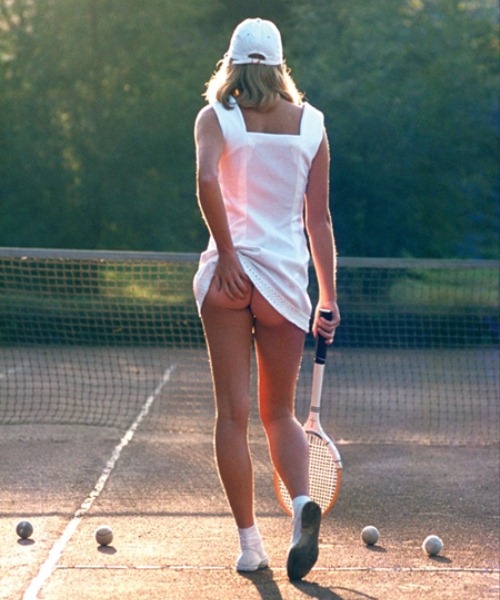 Martin Elliott/Athena
You probably knew which photo I meant before you saw it. It's an iconic photo that features more than a little tush. Which is awesome. You can't see her from the front, but who needs to? You only see her from behind when you're doing it anyway.
A little Googling has told me she didn't actually play tennis, and had to borrow the clothes for the photo shoot, but she's on the court and holding a racket so I'm gonna count it. Dat ass don't lie.
Michelle Jenneke
Better known as "Australian Runner Dance Gif" (which is what I googled to remind me of her name), Jenneke is an Australian hurdler that has some sexy warmup moves. Also, she's incredible, winning the crap out of her races and still looking awesome doing it. It think it's the smile; "girl next door" mixed with "I got this shit," a combination I didn't know was a fetish of mine. It was a surprising arousal; I am fully surproused.
Ashley Wagner
Her selection to the US Figure Skating Team for the 2014 Winter Olympics was mired in controversy. Apparently, the common assumption was that she fell too often during the trials to be a serious candidate for the team, and fans cried foul.
I totally support her selection, because otherwise I would never have learned who she was, and I would never have fallen madly in love with her when I first saw her at Sochi. Not that I've ever seen her. It was when I saw her on TV. Anyway, Ashley, if you're reading this, I think you're fly. Hit me up.
Maria Sharapova
Another classic choice. For some reason, people assume I'm uncreative when I choose hot Russian tennis players that are known for being hot for my list of hot female athletes. But how could I leave her off the list?
She's a more fitting choice than Anna Kournikova, because Sharapova is actually good at tennis. I'd still sex 'em both though.
McKayla Maroney
After winning the silver medal in gymnastics at the 2012 London Olympics, Maroney's "not impressed" face went viral, becoming a popular meme. Luckily, since I've already seen what she looks like when she's disappointed, it won't be a surprise when that's the face I see after we have sex.
Gymnasts always look way younger than they are, which weirds me out. Luckily, I did my research, and found out that Maroney was born in...1995? Shit, this article is definitely getting me put on a list somewhere.
Shin So-ji
I came across this chick when I was doing my *cough* research for this article. She's a Korean gymnast, and that's how she threw a first pitch at a Korean baseball game -- and it was a fucking strike (okay, actually a ball high and away).
This list very quickly started going downhill into super creep territory, so suffice it to say that she is literally everything I've ever wanted. A Korean gymnast that likes baseball? That is the perfect woman.
Pat Holland wasn't clever enough to post a joke at the end of this article. Don't try to email him.