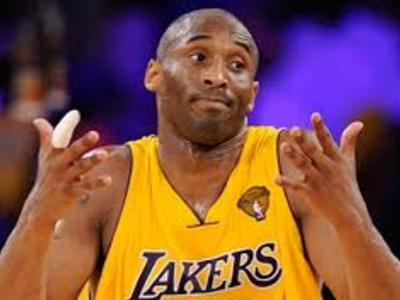 Julius Randle's Broken Leg Ended LA's Season But Started A New Game
October 30, 2014
We made it, the 2014-2015 NBA season tipped off Tuesday night. In case you've been in a coma or don't care about basketball, the Los Angeles Lakers haven't been very good the past couple of seasons. This season had the potential to be the worst Lakers team ever before the season even started (somewhere Smush Parker is very, very happy about this).
Just because a basketball team is the equivalent of a dumpster fire doesn't mean there aren't any reasons to pay attention to them though. Julius Randle has the potential to be a monster, Steve Nash has become so fragile that the wind produced by Robert Sacre's bench celebrations could break him, and Kobe has the potential to lose his mind and murder another player (I can't make up my mind about if it's more likely to be someone on his team or an opponent). Two out of those three reasons are no longer in play after a strong-ish breeze snapped Nash's vertebral column and Julius Randle broke his leg. Randle is obviously the bigger loss, he was the only player on the Lakers that I actually wanted to watch play basketball. All that leaves is Kobe. And I think he's pretty OK with that.
Since it's the Lakers, you know they will play on national TV more than any team that doesn't have LeBron or Durant ever should. We will have an unprecedented number of opportunities to watch Kobe shoot 50+ times a game and somehow that won't be the biggest reason why the Lakers lost the game. As far as I'm concerned, the Lakers aren't playing basketball anymore. They're playing Kobe-ball. It's a lot like regular basketball: ten players on the court at a time, a round ball and two hoops, and you can watch it at home in your underpants. The key difference is how to keep score.
It doesn't matter which team scores the most points. The Lakers can only win a game of Kobe-ball if Kobe misses more field goal attempts than the margin of defeat (as previously stated, the Lakers aren't going to win many basketball games). If the Lakers get beat by 12 points and Kobe goes 11-for-22 (10 misses), the Lakers lost both games. BUT if the Lakers lose by 12 and Kobe goes 11-for-30 (19 misses), Los Angeles can feel better about itself knowing they at least kickass at Kobe-ball.
One thing is for certain if they hang a championship banner in the Staples Center next June, it won't be for the Lakers. We don't have the funding to make a banner for the first season of Kobe-ball, but I might be able to make them a trophy out of stuff I find in the trash.
Smigoversen, first of his name, Master of Words, Cheapskate Beer Snob, and Protector of the Realm can be reached by raven here.