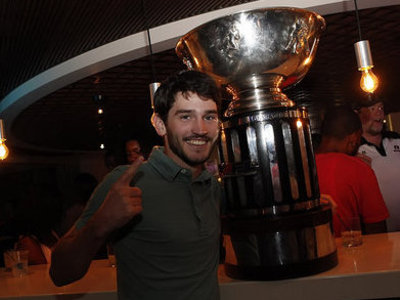 You're a regular dude. You're decently satisfied with life. Maybe you've got a medium-level job, maybe you watch a lot of TV. Whatever it is that keeps you going in your day-to-day life, there's one thing missing: Victory. Sure, it's probably too late for you to be the best in anything, but lucky for you, Dudefest.com is full of experts on the elusive topic of Winning. Thus, we present to you the definitive Dudefest Guyde to Winning.
Step 1: Start Doing A Thing
This is the easiest step of the process. But in a much more real sense, it's the most difficult. Turns out, it really sucks to start a brand new activity from scratch, because as they say, it truly "sucks to suck." Picking up a new hobby is infuriating at best, and painful and expensive (and painfully expensive) at worst, if it doesn't kill you. Most experts agree that the scale generally goes from infuriating to expensive to dead, in that order.
You need to make sure you pick a hobby in which there are competitions. You can't win at solo creative endeavors like basket weaving or knitting, unless you enter some crappy contest that is probably just a cash grab by some sketchy con man preying on old people. Also, don't pick up basket weaving or knitting, because those are activities for 80-year-old women. If you are an 80-year-old woman, thank you for reading our website! I'm sorry you're confused how you ended up here when you were just trying to find photos of your grandkids on The Facebook, and I'm sorry that we say fuck so much.
Obviously, you'll be better off if you happen to already have a hobby. For example, a lot of people play golf, so there are competitions and tournaments for all ages and skill levels, all the time. You won't have to learn an activity from the beginning, which is so unbearable that I won't even get into it. This is the Guyde to Winning, after all, not the Guyde to Grinding Through Ten Thousand Hours of Repetitive Practice and Rote Memorization (but keep an eye out for that one!). So go pick up your golf sticks or whatever (I've never played) and find a competition to enter.
Step 2: Find Your Competition
Obviously, if you need to read a how-to guide to winning posted on a website run by admitted assholes, you aren't very good at it. You aren't going to be an Olympic Golfer anytime soon (or ever, because God forbid that snoozefest becomes an Olympic sport) so don't even try to win a gold medal. Keep your expectations low and find a level of competition that fits your skills (or lack thereof). Basically, if there's an entry fee, you're probably in over your head. You should be looking for tournaments advertised on flyers that were made in 30 seconds using Microsoft Word, with garish clipart and about 15 different fonts and colors, and printed on a home printer (you can't even shell out the 8¢ per page at Kinko's?!). You should expect the level of competition at this tournament to be about as good as the graphic design on that poster, which means you stand slightly more than a snowball's chance in Hell. Very, very slightly, but still, that's something.
Step 3: Play Dirty
There's nothing wrong with playing dirty. These guys are better than you are anyway, and most likely better than you will ever be. Throwing elbows is probably a bit overkill, and you don't want to risk fouling out of the game/set/match anyway. Flopping is the way to go in this situation. You're clearly not worried about your dignity anyway since you're cheating to win, so flop away. Minor contact in a basketball game? Exaggerated tumble to the floor. Get bumped in a soccer game? Fall to the ground and clutch your knee. Someone punches you in the face in a boxing match? Kick him in the crotch and run. You're obviously not cut out for boxing.
You can also distract your opponent with constant, belligerent trash talk. Friendly trash talk is an important and fun part of every competition, but "belligerent" is the key word here -- it usually refers to somebody that has had way too much to drink and won't shut up long enough to stop being an asshole. That's perfect, because that's exactly what you want to do. So pound a few beers and start saying the most horrible shit you can come up with. You'll want to start out whispering this stuff to your opponents, because you can actually get thrown out for trash talk if the ref hears you. But you'll get really into it because talking trash is hilarious, and you'll just end up screaming it anyway. So, fuck it, don't talk trash: yell trash.
Step 4: Cheat to Win
Okay, playing dirty probably wasn't enough. Maybe you're not too good to throw elbows. Just make sure the ref isn't looking and start taking out your competition with violent, reckless behavior. (If you're fighting MMA, throwing elbows isn't going to help you, because that is not only legal, but encouraged. Also, make sure your affairs are in order, because you are going to die.)
In all other non-MMA competitions, though, you should be just fine. Your opponent is lining up his tee shot? Flying elbow to the back of the head. Got dealt a bad hand in blackjack? Elbow drop that motherfucker. Once you've taken all the fun out of the sport/game/activity/quiet evening with friends, you have beaten your opponent. Remember, if they quit, they didn't win, and that makes you the winner by default!
Step 5: The Trophy Ceremony
You're all set for success now. You just need to make sure you're actually able to finish at least one game/match/race before you're forcibly removed from the league/tournament/swim meet/quilting bee by the referees that are probably just jealous. Sure, you probably weren't on the winning team, and you definitely didn't contribute anything of value if you were. Nobody's going to be giving you a trophy today, but you can just buy one.
Trophy stores are all over the place, and they'll even make one to your exact specifications. I'd recommend getting a huge trophy with something kickass on it, like a big boxer punching a much-smaller soccer player, or a big, badass dragon. It goes without saying, but you should definitely get it engraved with the name of the event and a cool nickname you gave yourself. You cheaped out on your training, but don't cheap out on your trophy. You did technically earn it, even though you had to pay for it.
Congratulations! You are now a winner! Don't you feel good about yourself?
Pat Holland cheats at everything, even Scrabble. Especially Scrabble. Don't try to email him.