Best ROCKY Movies
July 01, 2014
While there are only six official movies in the ROCKY franchise, I maintain that there are at least a Dudefest Dozen. To make your life easier the next time you decide to sit through the entire ROCKY series (which I assume is a weekly endeavor), I have ranked them all. You may want to print this article out and keep it next to your television.
10. ROCKY V (1990)
I immediately regret having this list go in ascending order, because that means I have to start thinking about ROCKY V again, right off the bat. That is not something I like to do, because this movie is total ass-garbage. Suffice it to say that three fourths of the people that watched it didn't like it. There wasn't even one fourth of the movie that I liked. This movie is the stupidest thing to come out of 1990, and that's the year Kennedy was born.
9. GRUDGE MATCH (2013)
"Slightly better than ROCKY V" is not high praise for a movie, and yet it's all I could muster for GRUDGE MATCH. That's like saying STAR WARS: EPISODE I - DENNIS THE PHANTOM MENACE was a slightly better prequel than STAR WARS: EPISODE II - CLONE ATTACK. I'm calling this one a ROCKY movie because it clearly is, even though they changed the character's name and set it in Pittsburgh instead of Philadelphia. And what is Pittsburgh, if not a shittier Philly? In that vein, this movie is just a shittier (Pittsburghy) version of ROCKY BALBOA.
8. THE ITALIAN STALLION, or: THE PARTY AT KITTY AND STUD'S (1970)
Stallion Enterprises? Seriously?
This was Stallone's film debut, a "softcore adult film" (that's a nice way to say "weird porno") released in 1970 as THE PARTY AT KITTY AND STUD'S. I know you're wondering, and no, Stallone doesn't have the... 'equipment' you would assume is required to star in a pornographic film. In 1976, shortly after ROCKY was released, it was cut slightly and re-released as THE ITALIAN STALLION to capitalize on Stallone's sudden popularity. In my mind, because its re-released title is taken from Rocky's nickname in ROCKY, it is part of the ROCKY canon. My article, my rules. It is also a terrible movie that only earns a higher spot than GRUDGE MATCH because at least there are boobs in it. Weird 1970 boobs, but still: boobs are boobs.
7. ROCKY BALBOA (2006)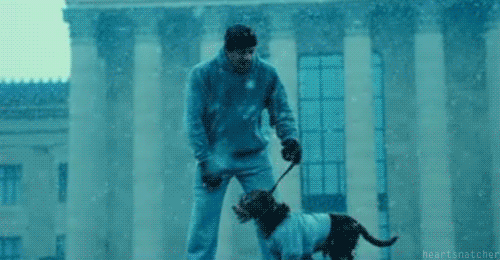 A surprisingly good movie, if completely unrealistic. The best thing it does is essentially pretend that ROCKY V never happened, which is one of my favorite activities. The best word to describe ROCKY BALBOA is "unnecessary." I mean, seriously, we didn't need a sixth iteration in the ROCKY franchise, but at least now ROCKY V isn't the final installment. That good faith lasted for seven short years until GRUDGE MATCH came out.
6. ROCKY III (1982)
The song "Eye of the Tiger" is from this movie, not from ROCKY. I've probably met about three people that know that, ever. The whole point of this article was to make that fact well known, and now I'm regretting burying it in the body of one entry in the middle of a ten-item list. If we ever meet in real life, and you've forgotten where "Eye of the Tiger" is from, I will punch you in the face (like Rocky does). The plot is a standard ROCKY movie: Rocky is retired, a challenger makes him un-retire, someone close to Rocky is sick or dying (in this case, his trainer Mickey), a long training montage (this time at Apollo Creed's gym), and then a fight at the end.
5. ROCKY II (1979)
There is almost nothing wrong with this movie, because it's basically just ROCKY again with a higher budget. And he wins at the end, which is nice. There's a lot more human interest stuff, like a bunch of unnecessary drama with Adrian's pregnancy, premature delivery, and postpartum coma. Adrian magically comes out of her coma and tells Rocky, "Win." Then he wins, whatever.
4. ROCKY IV (1985)
Definitely a worse movie overall than the three entries immediately before this, but also way more American, so I'm placing it higher. This is my article, not yours. So quit your bitching. Everyone knows the best parts of the ROCKY movies are the montages, and after making four of them over nine years, the filmmakers finally figured it out. A man more dedicated than I timed the total amount of the film that is montages, training or otherwise. The result: 31.9% percent of the film is nothing but montage. That's almost a third! And that's why it's great.
3. Rocky: The Musical (2012)
Obviously, the spot for best ROCKY movie is going to ROCKY, and the closest you can get to that is a remake of ROCKY. They do sing "Eye of the Tiger," which makes me angry because as you (better) remember, it's actually from ROCKY III. It's tough to make musicals dudefest, but they nail it, because it's fuckin' ROCKY. It's not a movie, but the people on stage move, so I'm counting it. Fuck you.
2. THE KARATE KID (1984)
This movie is totally fuckin' ROCKY. It's the best remake I've ever seen, and they didn't even realize it was a remake at the time. It follows the ROCKY formula exactly, even down to the main character talking like a moron and being from the Philadelphia area (let's face it, New Jersey is basically a suburb of Philly). The movie goes: human interest, training montage, fight. It's the perfect formula. It's even directed by John G Avildsen, the dude who directed ROCKY (and ROCKY V, but he didn't write it, so we won't hold that against him). Eight years after he made ROCKY, Avildsen still recognized the success of the formula, and he stuck with it.
1. ROCKY (1976)
It's fucking ROCKY, the ROCKY-est ROCKY of them all. I can't sum it up well enough without writing another thousand words (half of which would be "ROCKY"), and that is way too long for one entry on this list. Without this movie, eight of the other ones would never have existed, and you never would have heard of #8. You're probably better off just watching this one ten times.
Pat Holland has one regret in life, and that is watching ROCKY V again. Don't try to email him.