"Fancy" by Iggy Azalea Has Succeeded Despite Itself
July 24, 2014
Iggy Azalea and Charli XCX have teamed up to create "Fancy," the song and music video of the summer. This is a remarkable achievement, mostly because it's hard to have a hit song. But "Fancy" overcame more adversity than any other summer jam in recent memory. I have taken it upon myself to watch and rewatch the video and identify all of the ways Iggy succeeded despite several obvious inadequacies.
1) Iggy Azalea is from Australia and has a more ridiculous "blackcent" than even "Cry Me A River" era Justin Timberlake

Don't get me wrong, you're allowed to talk however you want to. Personally, I use my normal voice. Fraturday does what we call the "Gordon Geico" -- a mix of Michael Douglas from WALLSTREET and the Gecko. Iggy sounds like an alien trying to assimilate into popular culture that accidentally got famous. Is this just her rapping voice, or does she talk like that all the time? That must be exhausting.
2) Iggy Azalea very clearly cannot dance

The recent super-popularity of EDM (Extremely Dumb Music) has made life a lot more difficult for white pop stars. Before you just needed to look cute while your back-up dancers handled the tough stuff. Now? You have to be front and center in full-on rave gear. There are a lot of ways to get around this. Selena Gomez shot her last video exclusively from the cleavage up (more on boobs later) or in slow motion so she looks cool. Iggy has decided the best tactic is to hold onto a tennis court fence, start a move, then cut back to her sitting at a table with Charli, before finally cutting back to the fence where she has just completed the move. Then the hook comes and Charli starts "singing."
3) Most of the fans of the song have never seen the movie CLUELESS
CLUELESS taught me just how attractive Alicia Silverstone used to be (I didn't see it until it was on cable approximately 8 years after it came out). I imagine I am significantly older than the average fan of this song, and CLUELESS is definitely not still on cable before 4 am with any regularity. That didn't stop our intrepid Aussie blackcented songstress. She went ahead and themed the whole video around that movie. And I hate to tell her this, but Alicia pulled off the yellow plaid get-up a lot better in the 90's, and I don't think it would fly at all if she tried it in 2014. Speaking of which...
4) Charli XCX is much more attractive than Iggy Azalea

You don't have to be crazy attractive to be a pop star, you just need to be more attractive than the other people in your band (just ask Mick Jagger). The problem with most singers is they don't have a band. So they work around that by hiring dancers that aren't as hot as them (a strategy that Iggy used in the "party scene" in the third act - music videos have acts right?). While this usually works out fine, Iggy didn't account for her running mate in the video. Much like Dwyane Wade when he teamed up with LeBron and thought he would still be the best player on the Miami Heat, Iggy picked Charli XCX who is smoking hot (and actually talented) to sing her hook.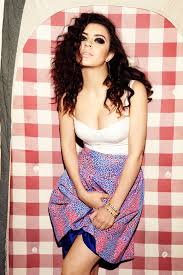 If I had been in her shoes (which I could probably fit into, I have small feet), I would have gone the direction Nikki Minaj did with her video "Super Bass," where she pretended to sing the chorus.
5) There is zero cleavage throughout the video

Sex sells. And Iggy has achieved great renown for having an absurdly large ass. I love butts. Everyone at Dudefest.com (Joe Kennedy being the notable exception) loves butts. We often end our emails simply with "Butts" instead of our names or good-bye or anything polite like that. But it's much easier to show off how top heavy you are than demonstrating your personal low end theory. Iggy hasn't had a public nip slip (as far as I know, Pat Holland is our resident celebrity nudity expert - he wrote a side-by-side comparison of the Kardashian and Paris Hilton sex tapes for his senior thesis) so I can't comment on what her cans look like. But after watching the video for "Fancy" at least 30 times (we conduct our research using the strict guidelines provided by the Kennedy Research Center), I can't even comment on the general size or shape. That's mind blowing. What ever happened to the videos like Dirrrty where you didn't even need your imagination?
6) Iggy Azalea ends every other line with a demonstrative pronoun

For those of you who aren't grammar nerds, a demonstrative pronoun is "that, this, these, and those." We all know that raps have to rhyme (this isn't free-form slam poetry, there are rules). Based on Iggy's three verses in Fancy, she should spend more time with her rhyming dictionary and less time hanging out in the tennis court. Iggy rhymes 'that' with 'that' and 'dat' over 40 times (counting is not my strong suit) in 55 rhymes. This remarkable lack of vocabulary is just that, remarkable.
7) Iggy Azalea starts every verse like it is a brand new song

Every performer has their favorite way to record. For example, Rihanna likes to call the studio from whatever club she is in and have her assistant hold a phone up to the mic. Then she can sing her three lines, that will repeat for however long until the rap verse comes in. Iggy's favorite way to start a verse is to pretend it's a brand new song. Every time the chorus ends, Iggy struts into the frame like she's forgotten that she's already been there for three minutes. I'm not saying Iggy has the short term memory of a goldfish, I'm just saying that my goldfish, Jim Thorpe, could kick her ass at a game of "Memory."
8) The bassline is best described as "farty"
Every producer wants to have the deepest, most powerful bass sounds possible. In this case, whoever dropped the beat in Iggy's songwriter's lap went from heavy to farty. My new favorite thing to do is butt dial people and try to convince them that my farts are actually a ringback tone. It hasn't worked yet, but I'm optimistic.
9) Iggy Azalea (or whoever actually wrote the song) doesn't seem to know what the word 'Fancy' means

They really should have named the song "Ratchet." Because everything about this video (except for the fashion) is ratchet as fuck. I wasn't sure what ratchet meant other than that I hate people who describe themselves as ratchet. Now I know. And knowing is half the battle (at least according to the G.I. Joes, and we here at Dudefest.com always listen to real American heroes).
10) Nikki Minaj has probably put a hit out on her by now

Li'l Kim will tell you that we only have room for one female rapper in the popular culture at one time. And if I learned one thing from Nikki Minaj's verse on "Monster", she can and will kill you without a second thought. If I were Iggy, I would probably lay low for a while (maybe in the Outback - and I don't mean the steakhouse).
Smigoversen, first of his name, Master of Words, Cheapskate Beer Snob, and Protector of the Realm can be reached by email here.