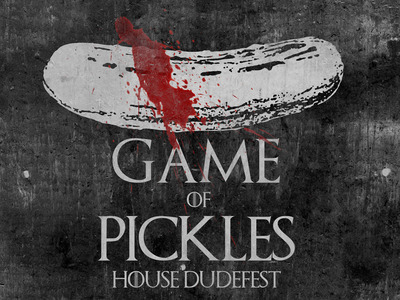 Game of Thrones (From the Perspective of a Dude Who Hasn't Seen It)
August 03, 2014
We post a lot of stuff about Game of Thrones on this site, because apparently television programs with sex, violence, dragons, and boobs are super dudefest. Who knew? But it is rude to assume that everybody reading this site has seen every episode of Game of Thrones, like my co-writers seem to do. If you're anything like me, you're just confused whenever a reference to the show (or the books, for the extra nerdy) shows up, because you've never seen it. Well, you're in luck, because I have written the definitive guide to Game of Thrones (even though I've still never seen it).
The Characters
While I don't watch the show, I do spend a lot of time on the internet. I have managed to pick up a few things, like the fact that everybody hates that little fucker from BATMAN BEGINS. Jeffrey? The king. That bastard. Just say stuff like, "I hope he dies" and talk about how much of an asshole he was in the most recent episode and I'm sure you'll be able to convince whoever you're talking to that you know what's going on.
Also, there's that hot chick who has dragons. Again, never seen her act and have no idea what her character's name is, but I've heard that there are pictures of her boobs on the internet and I had to verify it. There are, and I approve. I am definitely pro-looking-at-that-chick's-titties. As far as pretending to know what she's doing episode to episode, I assume you can talk about her dragons, and then her boobs, and then her dragons some more. Just make some sex joke and I bet you'll be okay.
I think Tony Stark is in the show too? Or maybe his brother. I don't know, I was never able to keep up with the massive Marvel continuity. Just talk about how House Stark never lies (I think that's their thing) and you'll be golden.
Talking about characters too specifically is going to tip people off that you don't actually know what you're saying, so try to hit the points I've mentioned above and then steer the conversation toward the more general plot points of the show.
Weddings!
Weddings happen all the time in Rivendell, where I'm pretty sure the show takes place. So when the conversation with your jerk/nerd friends turns to this dumb show you've never seen, you can always just mumble something about the most recent wedding and you'll seem like a guy who's "in the know". Just say standard wedding shit: beautiful ceremony, great reception, all that crap. You'll be fine.
The Plot!
You're on your own for this one, man. That shit's fucking confusing, and I'm still not convinced this show is actually about anything. To my knowledge it's just a bunch of characters fucking and killing each other. Just read the Wikipedia article about the show and use the episode synopses as your talking points.
If you really find yourself in a pinch, claim you haven't watched the newest episode yet and chastise your friends for their careless spoiler talk. Of all things that are sacred among nerds, not having shit spoiled for you may be the most important.
Now you can probably hold your own in a conversation about Game of Thrones!
Pat Holland wasn't clever enough to post a joke at the end of this article. Don't try to email him.