Worst People On My Commute
August 20, 2014
A few months ago, I moved to the Dudefest.com headquarters, New York City. I live in Queens, because fuck Brooklyn. Unfortunately, I actually spend more time in Brooklyn than in the GBE (TM) (Greatest Borough Ever (TM)), because that's where my office is, and they expect me to go there every day. Slogging through an hour-long commute each way, five times a week leads to meeting a bunch of interesting characters on the train, and here are a list of my favorites (assuming someone switched the definition of "favorite" to "annoying motherfuckers that are the worst people to interact with first thing in the morning").

The Blasting Music From His Phone Guy
Let me begin with an emphatic "FUCK YOU." You are the fucking worst. It's 7 AM, nobody wants to hear you blast "Fancy" on repeat. Did you know that you can buy a pair of headphones literally anywhere, with speakers much better than the shitty, tinny one in your phone, for less than five dollars? You're being inconsiderate on purpose.
There are 200 people in this car, and exactly one of them is enjoying what you're doing. (That guy is you.) You know what kind of shitty percentage that is? A rounding error. You are 0% of this car, and I know the "7 year jail sentence for assault on MTA" doesn't apply if the victim was playing his shitty soundtrack for the entire train. No jury would convict me.
The Blasting Music From His Headphones Around His Neck Guy
You are so close to not being the worst kind of person. So close, and yet so far. You have the headphones already, so you're more than halfway there. In fact, you are literally inches away from being a perfectly fine subway neighbor. Just pop those badboys onto your ears and nobody has to share the newest Pharrell single with you, thank god.
Maybe you want to hear when your stop is coming, but there are other options, like turn your fucking music down for the fifteen minutes you'll be on the train, or look out the goddamn window. Your excuse is almost as shitty as you are a person.
The Way Too Close To Me Guy
Yes, when the train gets crowded, we need to squeeze like... way too many people into an underground, aluminum fart tube. I was going to think up an analogy here, but nothing else really compares. Sardines are too stupid (and dead) to care that they're packed together in a can, and cattle is too delicious to care about whether or not they're comfortable.
But that doesn't mean you need to stand right fucking next to me when the car's still half empty. Dude, there are even some seats still open. I don't need to be able to smell your shampoo, even though I do appreciate that you cleaned yourself before grinding all up on me, the pole, and the doors.
The Doors Are For Nobody But Me Guy
Listen, douchebag. When the doors open, people need to get off the train. Those are people that are taking up the very space you want to occupy on the train, so let them get off first. The entire train arrives at the same place at the exact same time; muscling your way through the steady stream of commuters exiting just pisses everyone off.
Standing still, directly in front of the doors is not "waiting for people to exit first." That's being even more of an asshole, because you literally don't know how the world works. People can't get through you when you stop there, idiot. Move to the side. Making people shove past you is eventually going to end with you forced into the tiny gap between the car and the platform, and again, no jury would convict me.
The "This Looks Like a Great Place to Stop" Guy
No, it doesn't. It is a terrible place to stop. I don't care what spot you are standing in, it is the worst possible place for you to be. Don't stop at the bottom of the stairs. Don't stop at the top of the stairs. Don't stop on the stairs.
I would give you a complete list of places not to stop, but that would be infinite. Instead, here is a list of places where it is acceptable to stop: in a corner. When there is literally no place left to go, you are allowed to stop. Other than that, keep it moving, and get the hell out of my way.
The "Didn't See" That Pregnant Woman Get On So Doesn't Give Up His Seat Guy
You're a douchebag, guy. They have specific announcements on the PA system telling people like you that you're supposed to give up your seat. And I'm pretty sure it's the law.
I sometimes do this too, but to be fair, I can't tell if she's pregnant or just fat. And I usually guess wrong. I'm getting really close to beating 2048, and that requires a lot of concentration.
The Smelly Guy
Every train has one, and everyone knows he's the worst. The whole car stinks because of you, and on a busy, full train during rush hour, you're the only person on an otherwise empty car. That seems like a great thing, because you're guaranteed a seat, but have a little pride, man. Take the bus if you're gonna stink up the place.
The Giant Backpack Guy
Your backpack (or gigantic purse) is not a person. It does not get a seat. I will ask you once, not very nicely, to move it, and then I will sit on it. Why? Because fuck you. The seats are for people, not for your shit. This train is crowded, everyone is tired, and I deserve that seat because my house is close to the end of the line.
You're almost as bad as Bike Guy, but at least he has the decency to only use the subway when it's raining and he forgot his weird hipster-cyclist rain pants. Bike Guy is Bike Guy because he likes to avoid the train during rush hour. But while we're at it, Bike Guy, when you block an entire row of empty seats, I want to smash your fixie into tiny pieces and make you eat them.
The F Train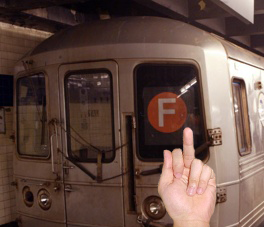 I know the F train isn't technically a person, but the amount it has fucked me over (twice a day, every goddamn day) has to be deliberate. Either the MTA is run by ineffective bureaucrats and under-qualified peons with a massive infrastructure essentially working against them, or the entire organization is out to get me personally. They say, "Never attribute to malice that which is adequately explained by stupidity," but would a government agency really be that incompetent?
(Interjection from Smigoversen: You don't know real pain until you have to ride the G everyday...)
The Conductor
"Stand clear of the closing doors, please" is an automated recording on most trains now, so the only reason why the conductor would need to use the PA system is for important announcements regarding service changes and delays. So why the hell does he think it's okay to mumble them inaudibly? I need to know if I should take a different train, or a different line, or a fucking bus (ew) to get to work on time. You know what doesn't help me? "Nokweebout efftrainstween eebrautwayanthurtyfishtreed freezhuttlvailable." I don't know any of those words, and speaking as quickly and as quietly as you can doesn't help as much as you're hoping.
Why is the PA system, the one method of communication about dangers, emergencies, and delays, consistently the most broken thing on every train? Because the MTA hates you (see above).
Pat Holland was really into trains as a kid. If 8-year-old him knew how often he rode the subway, he'd be so jealous. Don't try to email him.