Gotham Will Ruin Batman and Here's Why
August 30, 2014
Gotham is a new show premiering this fall about Gotham City before Bruce Wayne grows up to be Batman but after he sees his parents get murdered. I haven't read anything, watched a trailer, or asked my TV nerd friends. ALl I did was look at the subway posters while I waited for my train in the morning. I'm going to draw some conclusions based on the posters that if accurate will ruin Batman for me.
Take a gander at that picture up by the title. Notice anything? Sort of a "One of These Is Not Like the Others" - technically a "Two of These Are Not Like the Others". Let's take a look at the individual components really quickly...
That's Bruce Fucking Wayne. Probably shortly after his parents died. OK, let's take a look at the rest of these faces and see if we can figure out why they all look so familiar.
I don't know who Oswald Cobblepot is, but I do know that there's only one villain who carries an umbrella. He's obviously the Penguin. One other thing that jumps out at me, the (The?) Penguin is clearly an adult in this picture. Next up...
Also known as The (the?) Riddler! This guy looks slightly younger than The Penguin. But still most definitely an adult.
I know what you're thinking. Who the fuck cares if two principal villains are well into their twenties when Bruce is at most 12. That means when Bruce Wayne finally becomes Batman and batmans the shit out of all these Batman villais, they're in their 40's. This is like dunking on Michael Jordan at age 50 - bad example, attempting this would result in a fatal ankle-breaking once he gets the ball away from you. And heaven forbid if you actually DO dunk on him. This is like beating up your Dad, easy, addictive, and uncomfortable for onlookers - especially if they're strangers. Especially especially if they're close friends.
Speaking of inappropriate relationships due to a significant age difference, that's Selina Kyle a.k.a. Cat Woman. You probably remember her banging a retired Batman (offscreen) during the ending of THE DARK KNIGHT RISES. Call me crazy, but she is also an adult like the other villains. Which means that when the Bat and the Cat are getting their flirt on mid-fight, she's probably starting to go through menopause. I understand that Bruce is a little fucked up from seeing his parents get murdered in front of him. But going the same route as THE GRADUATE is an... interesting choice.
Who the fuck is this? A cursory Google search has informed me her name is Fish Mooney and she is some kind of crime boss. She was also invented for the purpose of this show. That means she definitely won't be around when Batman returns to Gotham. She's so old that she isn't even on Batman's radar! Also she carries a baseball bat. That's the extent of protection that was necessary pre-Batman. Villains didn't even have to TRY to be creative with their weapons. I bet they still rob banks without using elaborate schemes still, amateurs.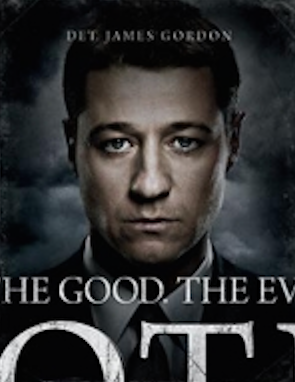 And finally, we have Commissioner Gordon. Wait, I'm sorry Detective Gordon. He's probably some hot headed young gun who just got promoted to detective (in fact, I guarantee you this promotion occurs during the first episode). Do you know how many people have to retire/die before a brand new detective like Gordon at this point in his career are considered for Commissioner? Everyone who matters. All of them.
One person who is conspicuously absent is The Joker. He obviously can't be around in a Batman prequel because Batman created The Joker. And without the potential for the best villain to pop up in any given episode, it's automatically less interesting. The silver lining to this cloud is that when Batman beats the shit out of The Joker 20ish years from now, he'll be picking on someone his own age and not some old fart whose been doing petty crime longer than it takes to rise through the ranks of the League of Shadows.
So to wrap this all up. Gotham will reveal that all of Batman's nemeses were funding their heists with AARP and Social Security benefits because they've been at villainy long enough to collect, a love interest that would be widely condemned by social conservatives in real life, and a detective who is about 12 promotions away from his job when Batman shows up. This sounds great. Just like how THE PHANTOM MENACE sounded great.
Smigoversen, first of his name, Master of Words, Cheapskate Beer Snob, and Protector of the Realm can be reached by raven here.