Baseball
February 18, 2014
Baseball. America's pastime. The third most American thing after Mom and Apple Pie, for some reason, in that weird saying, depending on what order you say it. The best sport in the world (except for football, basketball, hockey, soccer, Australian rules football, curling, ultimate frisbee, Canadian football, wrestling, track and field, Arena Football, and golf). A $10-per-beer statistics class. And now it can be fun, too!
McFarland & Company, Inc.
Those pricey beers are the ticket. Speaking of which, you will need a ticket. I'd recommend skipping the game and just tailgating, but nobody tailgates before baseball anymore because there are approximately eight hundred games per season (excluding interleague play which brings the total to an even one thousand).
Catch yourself a decent buzz before you leave for the game, and be sure to take public transportation to the stadium- almost every stadium is located in a city that makes this super easy (sorry, Diamondbacks, Braves, Orioles, Reds, Indians, Rockies, Tigers, Marlins, Astros, Royals, Angels, Dodgers, Brewers, Twins, A's, Pirates, Padres, Cardinals, Rays, Mariners, Rangers, Blue Jays, and Nationals fans). But on the plus side, being a fan of one of those teams likely means that your ticket will be significantly cheaper than a single beer, so you've got that going for you.

Grab your seat between that uninterested son who's here with his trying-too-hard stepfather and the ditsy girl that fancies herself "the best girlfriend ever" for getting her boyfriend nosebleed seats to a regular season game in May and spends the entire game Instragramming, complaining, and asking what the hell is going on, "What does 'tag up' mean?'", and getting you to take their photo together ten different times before the end of the 2nd. These are the true fans, the people baseball was made for.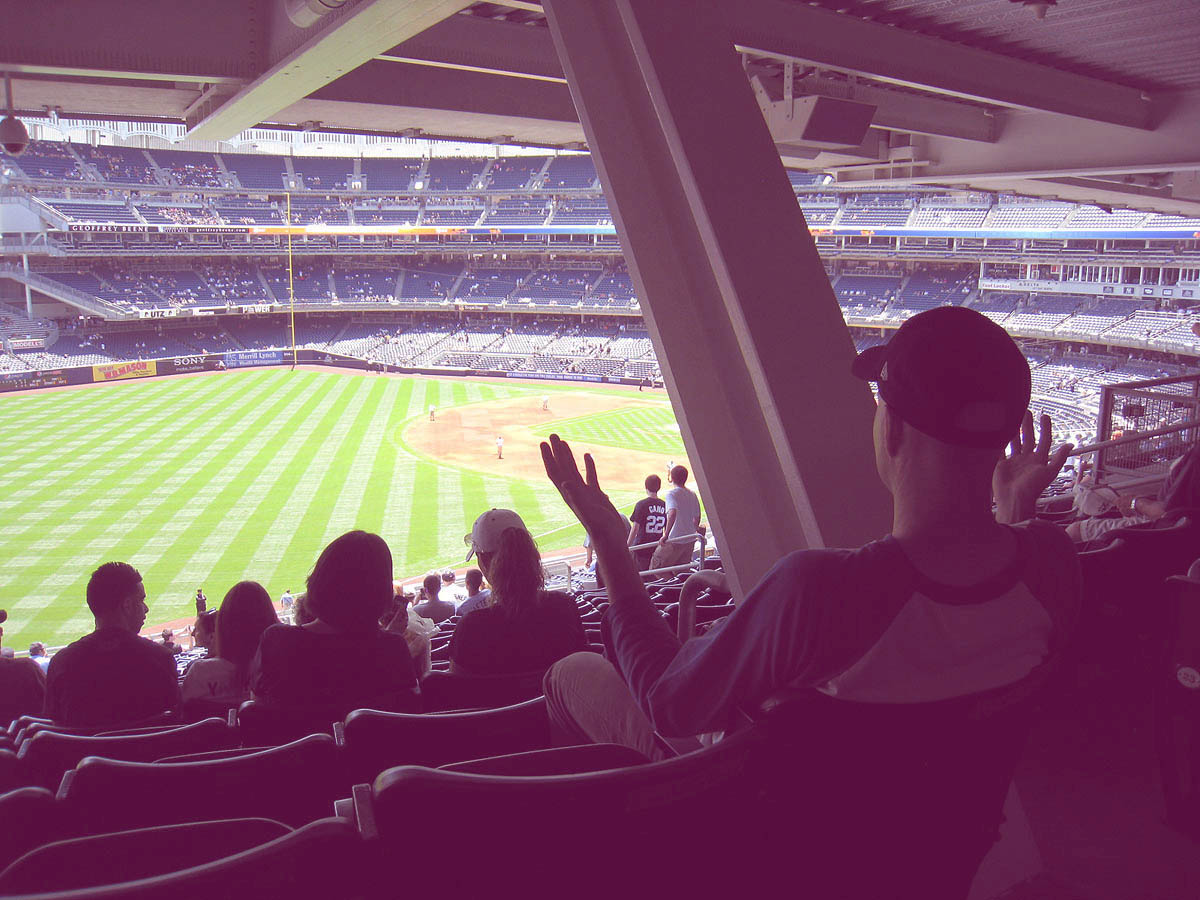 source: Zack Hample
Earned Run Average, Batting Average, At Bats, Base on Balls, Full Count, Designated Hitter- all terms you will be able to hear that chick misunderstand and beg her boyfriend to explain! "This is boring"- the phrase you will hear constantly in stereo from Bored Stepson and Instagram Girlfriend starting in the bottom of the 3rd! "Fuck it, fine. I give up. We're leaving"- the inevitable result of this trip for everyone around you by the 7th inning stretch!
Now that you have those awesome seats all to yourself, flag down that beer guy before the stupid law dictates he has to stop selling 'em. Buy nine- you're sobering up, and you don't come to a baseball stadium to save money. Also, he doesn't take credit cards, so toss him a hundo and let him keep the change; he'll be more likely to bend the rules and sell them to you. Slug those bad boys and enjoy the last few innings (only six hours left!).
Did your team win? It doesn't matter, because you had a good time! Also, it literally does not matter because no single game makes any statistical difference on the season this early. It's fucking May. The important thing is that you spent as much as a textbook for a statistics class would actually cost, and you got to get drunk! Now wrangle your way through the crowd of a bunch of drunk jerks all leaving at the same time like a herd of inebriated cattle. Hopefully you'll sober up on the way home instead of falling asleep on your train. This isn't the Dudefest Guyde to Getting Home Safely, though, so you're on your own for that one.
Pat Holland is officially out of ideas. He doesn't need your help, or your pity, he just wants them really badly.